DESIGN
Has any SUV ever fit so much into such a compact package? Accommodating, with seating for up to seven. Rugged in all the right places, with looks to match. So intelligent it can carry on a conversation, and carry out your wishes. And all priced to please.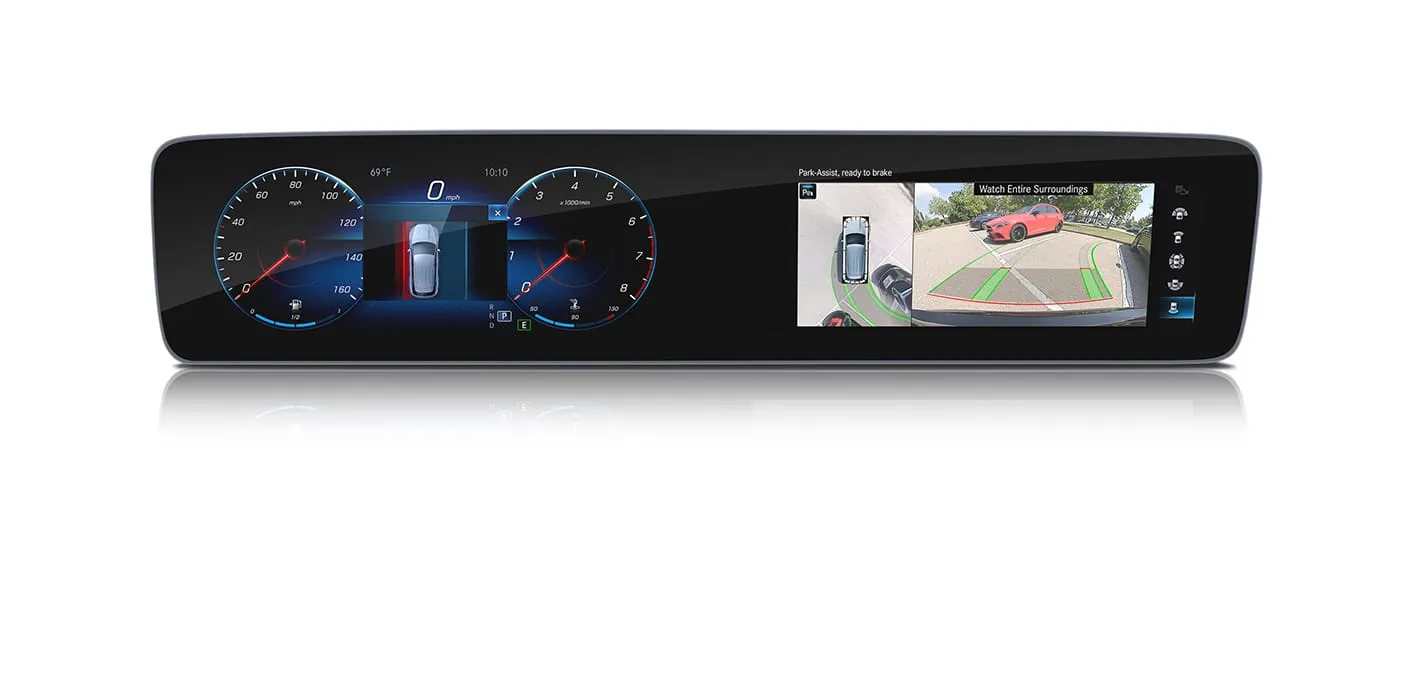 Digital: In reach, within reason
Standard dual 7-inch or available 10.25-in high-resolution screens present reconfigurable instruments and multimedia visuals with vivid clarity. The central display is a touchscreen, so it's easy to access features, change settings and customize themes.
Multicolor ambience: A hue for every you
Suit your state of mind, or create a new atmosphere in the GLB cabin, whenever the mood strikes. Available 64-color LED ambient lighting includes multi-hue motifs, as well as dynamic themes that cycle through colors at a soothing pace.
Timeless appointments: Modern furnishings, finely finished
Supportive seats are appointed in a spectrum of upholstery options. Stylish dash and door trim include two options in natural-grain woods. Aluminum accents in the dash and doors evoke the grab bars of the iconic G-Class.
VERSATILITY
It can take you new places, or make old favorite roads feel fresh. It can take up to six of your friends, or make easy work of the weekend chores. And wherever you take it, it'll do more than you expect to make every mile memorable.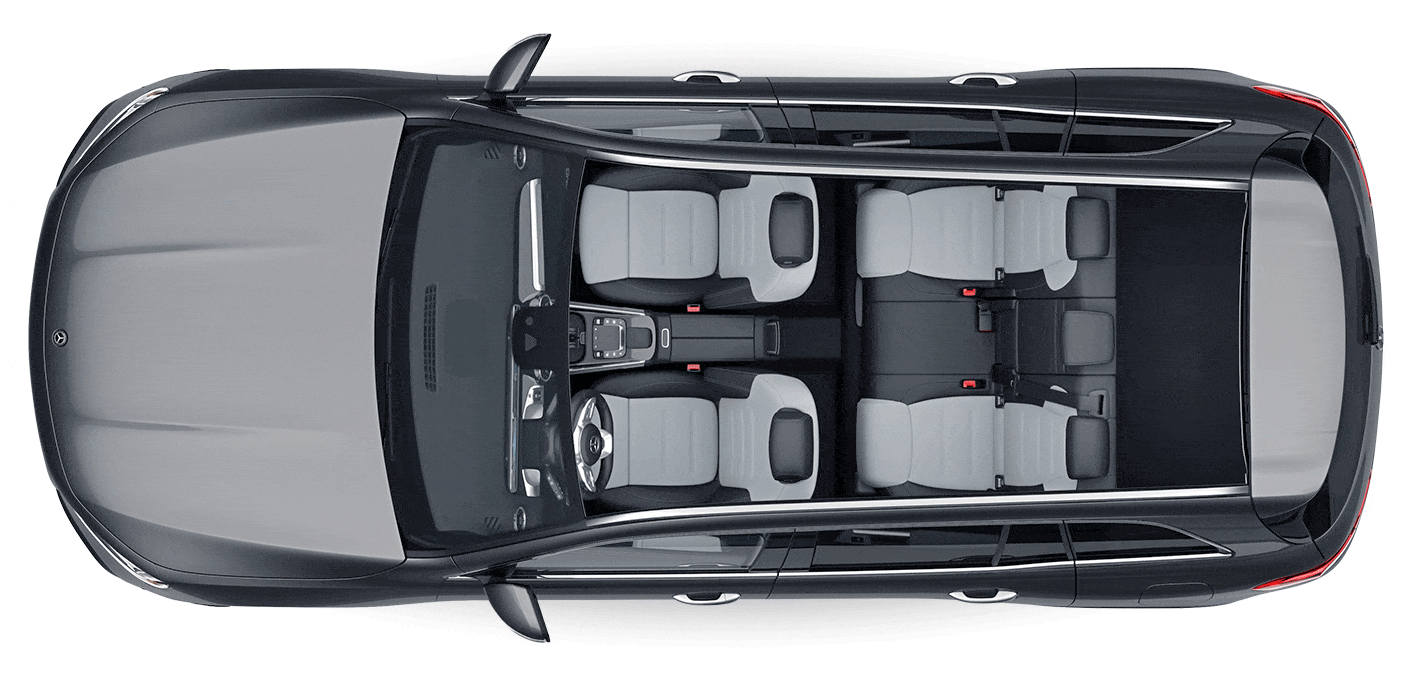 Flexible: The recline of civilization
Compact outside, the GLB's accommodations go big: 40/20/40-split 2nd-row seatbacks adjust to seven positions or fold flat. An EASY-ENTRY feature eases access to the available 50/50-split 3rd-row seat. With all the rear seats down, there's room for two and a lot of gear.
Turbo torque: Boost to go
The advanced, efficient 2.0L inline-4 engine's twin-scroll turbo pumps up power to 221 hp. With all 258 lb-ft of torque on tap from just 1,800 rpm, you get quick response off the line, and for passing, merging and climbing.
8 speeds, 4 modes: Wide-ranging talent
The clever dual-clutch 8-speed can be an easygoing automatic or a paddle-shifted partner in fun as you wish. With no fewer than four drive modes, DYNAMIC SELECT lets you tune the drivetrain, steering feel, and available adaptive suspension to suit, too.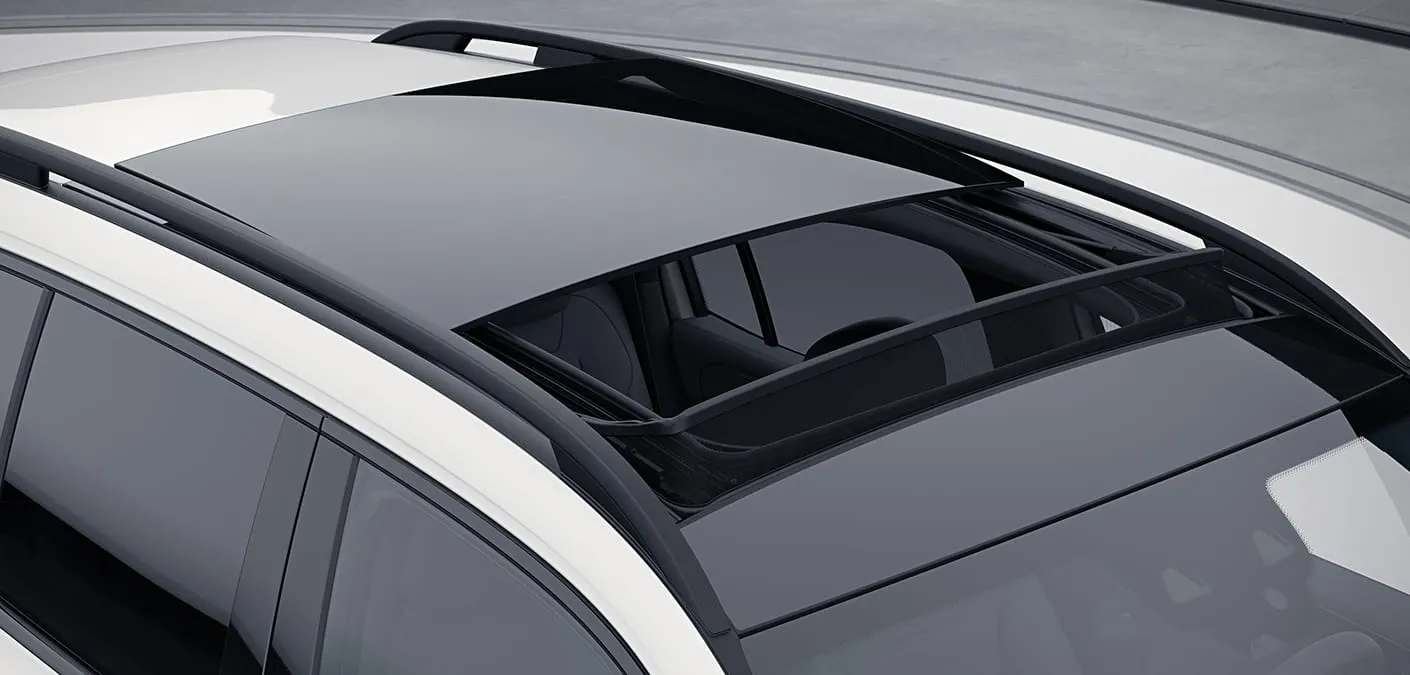 Instant upgrade: Where the going stays easy
The GLB puts more than adventure in reach. Its low price still packs in luxuries like a power liftgate, power front seat memory and dual climate zones. Upscale options include a giant Panorama roof, a heated steering wheel and ventilated front seats.

INNOVATION
If you like how the GLB looks, you'll love how it listens. The Mercedes-Benz User Experience is your own in-car personal assistant. Just say what you want, and your wish is literally your GLB's command. MBUX can quietly respond to your touch, too.
Tell it, touch it, point to it: Your GLB can hear you, and show you the way
Say "Hey, Mercedes, I'm chilly" or "I need a coffee," and MBUX listens. You can adjust many cabin features or the available MB Navigation, by speaking naturally. Options include live video with graphic overlays of your next turn, and in-cabin gesture controls. Touchpads on the steering wheel and console let you access the in-dash screens. [6]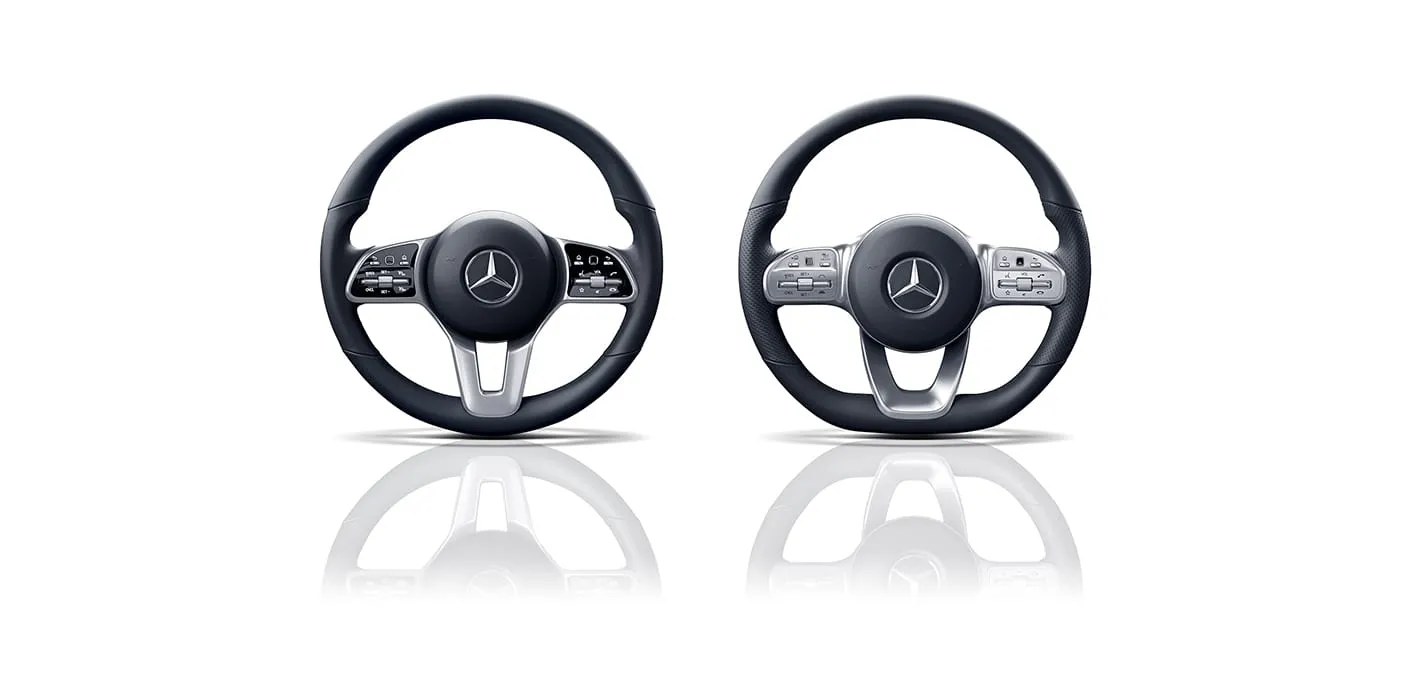 Mercedes me connect: Three words that say it all
Mercedes me connect makes ownership easy. Access Remote Start or Lock/Unlock, see your vehicle status, or schedule service, all from your phone. Add in-car WiFi for a low monthly rate. Apple CarPlay™ and Android Auto are standard, too. [7] [8]
Advanced driver assists: Virtual eyes, actual benefits
Next-generation options help smooth any journey: Change lanes with a tap of a turn signal. Park hands-free. Adaptive cruise can help steer, stop-and-go in traffic, even slow for an offramp. Advanced tech can even help "cover your ears" before a crash. [9]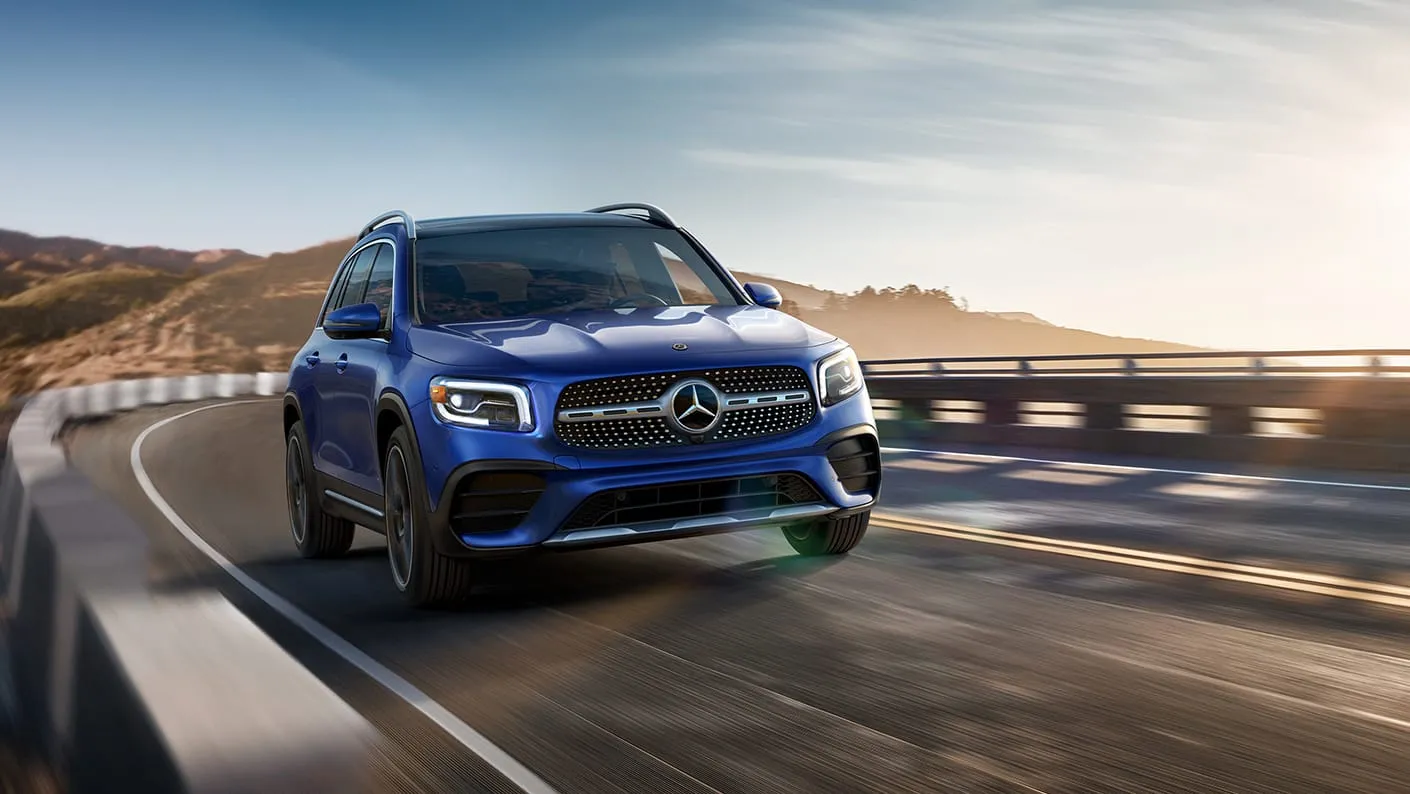 Disclaimers
1
Vehicle may not be exactly as shown.
2
As a concept car, the designs, features, etc. are subject to change.
3
Lower-aspect-ratio tires and accompanying wheels provide substantially increased treadwear, increased tire noise and reduced ride comfort. Serious wheel and tire damage may occur if the vehicle is operated on rough or damaged road surfaces or upon encountering road debris or obstacles. These tires are not designed for use on snow and ice. Winter tires mounted on appropriately sized and approved wheels are recommended for driving in those conditions.
4
Vehicle is provided with TIREFIT sealant and a portable air pump in lieu of a spare wheel.

5
Off-road driving should only be attempted by drivers with the necessary skill, experience and understanding of the vehicle's limits. Read Operator's Manual before driving off-road.
6
While the navigation system provides directional assistance, the driver must remain focused on safe driving behavior, including paying attention to traffic and street signs. The driver should utilize the system's audio cues while driving and should only consult the map or visual displays once the vehicle has been stopped in a safe place. Maps do not cover all areas or all routes within an area, may require periodic updating, and may not reflect recent or temporary changes to roadways.
7
All Mercedes me services operate only where cellular and GPS signals are available, which are provided by third parties and not within the control of Mercedes-Benz USA, LLC. Mercedes me connect Assist Services, and 3 years of Mercedes me connect services are Included at no additional charge with new-vehicle sales and leases at an authorized Mercedes-Benz dealer. Models with COMAND® navigation also include 3 years of map updates, 1 year of Concierge Service, and a 1-month trial (up to 1GB) of in-vehicle WiFi and streaming audio. Subscriber Agreement is required for service to be active. Some services are only available on select vehicles. Your PIN is required to use certain services. Connection may be limited by cellular signal and other factors. Features may be introduced and updated at varying dates, and may also require a vehicle software update. Some services may be limited or restricted in some areas. Driver is responsible for complying with traffic and other laws. See your dealer or MBUSA.com/mercedesme for details.
8
Apple CarPlay™ is a product of Apple Inc. Android Auto is a product of Google Inc. Device and app providers' terms and privacy statements apply. Requires connected compatible device and data plan. Apps, content and features are selected solely by their providers. Connection to apps and streaming services may be limited by the device's network connection. Data usage is routed through device and subject to fees, charges and restrictions in user's wireless plan. Vehicle's factory audio/information interface, including COMAND® navigation, may not be used simultaneously with Apple CarPlay or Android Auto. When Apple CarPlay or Android Auto is in use, the steering-wheel voice control button accesses Siri® or Google voice recognition software for voice commands.
9
Some systems are optional. Even the most advanced safety systems may not be sufficient to avoid an accident. It is the driver's responsibility at all times to be attentive to traffic and road conditions, and to provide the steering, braking and other driving inputs necessary to retain control of the vehicle. Drivers are cautioned not to wait for system alerts before braking or taking evasive action, as that may not afford sufficient time and distance. See Operator's Manual for system operating speeds and additional information and warnings.